By Checkout.com
Every economic region can suffer from stereotypes. For the Middle East, North Africa and Pakistan (MENAP), that comes in the form of petroleum, natural gas, heavy industry and concentrated sovereign wealth. Lazy analysis may correlate this with weak individual consumer spending and a lag in mass digital adoption. As a consequence, it's easy for many foreign brands plotting international expansion to ignore the region.
That may be a mistake. The MENAP is undergoing an enormous transformation. Demographic, technological, political and cultural forces shape new consumer behaviors, not least in the ecommerce market.
As Gaurang Shah, Senior VP, Product Management, Digital Payments & Labs, Middle East and Africa at Mastercard explains: "The short-term response to COVID-19 has led to the accelerated adoption of new connections to the world of digital commerce. More people and businesses can now be welcomed to the formal economy, setting the foundation for sustainable, inclusive growth."
Some were quick to see the potential. In 2015 the online food ordering service Talabat was acquired by German ecommerce group Rocket Internet for $170 million. A year later, it was under the ownership of Delivery Hero, which saw enough potential in the region to add Otlob (Egypt) and Carriage (MENA) to its portfolio. Elsewhere, Uber acquired Careem — the region's leading ride hailing service — for $3.1 billion in 2019.
Our recent report found that 78% of consumers in the region frequently shop online, with almost half (47%) anticipating they'll do more so in 2021. By then, it's predicted that the Middle East alone will have an ecommerce sector worth $49 billion. And 500 million people will have a smartphone connection by 2025, with 45 million of these on a 5G network, says the sector's global body .
With such enormous growth potential, the question for brands is how can they tap into this market.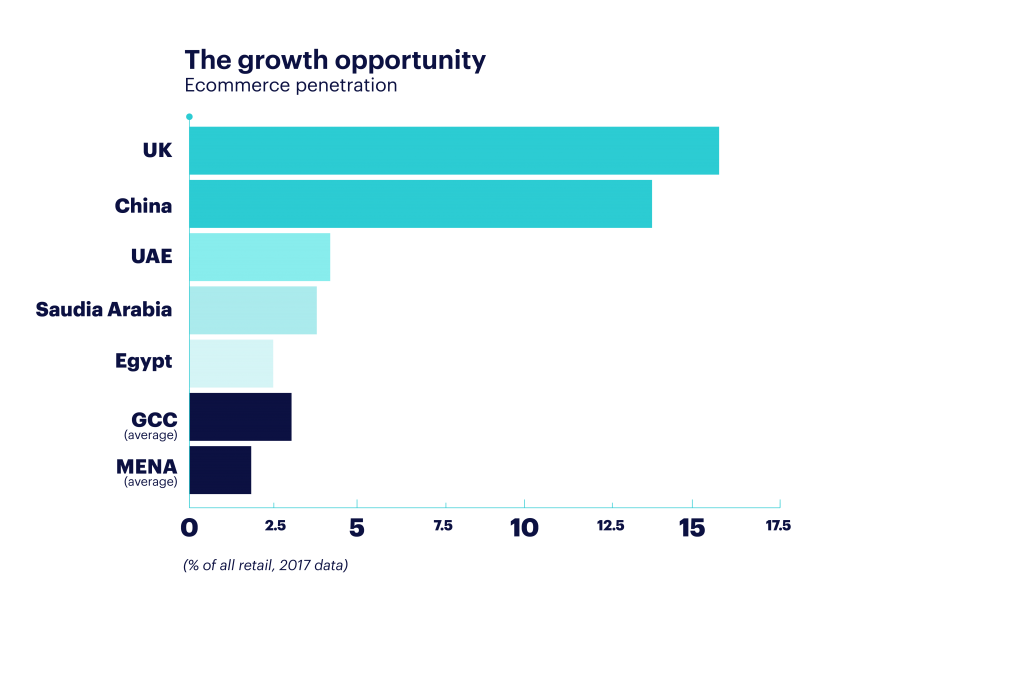 Identifying the trends
Acknowledging this growth is the easy part. Brands with designs on MENAP need to dig into the trends. Only by understanding the forces at play can they work out how to leverage them and take a share of the e-commerce opportunity.
That's easier said than done. The region is large and complex. Depending on what definition you use, it covers around 15 million square kilometers, includes somewhere between 20 and 30 nations, and has a population between 550 million to 800 million.
But three clear trends have established themselves above this complexity. Each presents opportunities, and challenges, to market entrants.

Cashless payments
The MENAP region has not been alone in its reliance on cash. And as elsewhere in the world, consumer habits can be hard to break. Cash in itself is seen as somewhat abstract. Hard assets such as gold can be preferred as currency. Against this context, digital payments have had an even harder time finding their feet.
Three developments are changing that:
Improved digital infrastructure mobile adoption
More friendly regulations
COVID-19
On the latter, lockdowns have meant people are physically unable to exchange cash while also being suspicious of catching the virus from handling notes and coins. Hadi Raad, VP of Digital Solutions at Visa, suggests that "cash now carries an extra stigma of low-hygiene, in the minds of consumers."
As interesting as this immediate reaction is the longer-term intentions of consumers. Emre Talay, Director of Global Payment Operations at Delivery Hero, explains that not only did they see 50% of cash transactions go digital after the pandemic, but that they've "also seen a rise in consumers wanting to save their card details on file."
But the move away from cash was already underway before the virus struck. National governments have been making it easier for new digital payment methods to be introduced. KNET in Kuwait, Benefit in Bahrain and Mada in Saudia Arabia are already household names. In Saudia Arabia, which has led the charge, alternative digital payment methods now outstrip traditional card-enabled transactions. And in the UAE, 64% of people expect the country to become fully cashless by 2030 .
Digital natives
Infrastructure and regulation merely lay the groundwork for change. It's people who transact. As the digitally native generation comes of age, their appetite for choice and convenience fuels the region's transformation.
In the last century, MENA's population grew faster than anywhere in the world. Today at least 200 million people are under the age of 25. . And one-third of the region is under 15 years old . This is the generation who have grown up with access to the internet, a phone in their hand, and social media on speed dial. Convenience is not a demand but an expectation. Shopping and paying online comes naturally to them: 36% of 18-24-year-olds shop online at least once a month, compared to only 13% of 55 and overs .
Economic diversification
Layered on this picture of digitization and demographic change are shifting global attitudes to oil production and consumption, pro-democracy movements, increasing immigration from developed nations and rising education standards.
Layered on this picture of digitization and demographic change are shifting global attitudes to oil production and consumption, pro-democracy movements, increasing immigration from developed nations and rising education standards.
The result is economic diversification. Health and fitness, media, and digitally-enabled services are some of the winners. But these sectors aren't easily infiltrated. For international consumer brands looking to benefit from MENAP's new spending power, ecommerce is the fastest route to success. And the race has begun. From just March to September of this year, we've seen 1000+ new inquiries for merchants shifting their sales online.
For Sunil John, Middle East President at public relations firm BCW, the game's up for retailers that don't take this seriously enough: "Pivoting to a digital-first mindset that understands the importance of a seamless online shopping and payment experience will be a strategic imperative for traditional retailers to survive and thrive in the MENAP region."
Proceed with caution
Preparing to enter any new market can be difficult. When the market is the size and complexity of MENAP, it can be overwhelming. But it doesn't need to be. Two considerations should be front of mind for international merchants:
How do we navigate the complexity and understand the nuances? How can we do this faster than our competitors?
The key to both questions is payments. Too many businesses leave payments to the end, by which time it's too late. The ability to offer the payment methods that your customers want can make or break your success. It should be prioritized alongside market research, production, marketing, recruitment, distribution and so on.
For each country you plan to sell online in, there are some basic questions to start with, including:
How do people there prefer to pay? Who is regulated to take payments? What are the broader financial and legal obligations of doing business? Are there any restrictions to domiciling revenue?
But progressive won't stop there. Ecommerce is about nimbleness. Scalability — in other words, being able to ramp up the number of transactions you take — is crucial. So is data. Understanding payments at a granular level — conversion rate, success and declines, speed of settlement, cost per transaction — is how successful merchants continuously improve their customer experience and margins.
A challenge shared
International brands looking to get a foothold in the region are realizing they can't go it alone. Increasingly the answer is to partner with a payments specialist with local knowledge, coverage, compliance tools, access to data and the infrastructure to scale. There are many benefits, not least outsourcing the hassle so your businesses can focus on what you're best at. Ecommerce retailers that understand the opportunity in MENAP and factor payments into their plan will be the ones that thrive.
Want insider insights into what leading brands across MENAP are doing to succeed with payments in the region? Check out our exclusive eBook featuring the views from payment professionals at Seera Group, Delivery Hero, Chalhoub Group and more.
Who are Checkout.com?
Checkout.com's flexible payments solutions help global enterprises — like Samsung and adidas — adapt, innovate and thrive with more value from every transaction flowing through your business. They're on a mission to empower merchants by building the connected finance they deserve.
Download our new report to learn how businesses responded when consumers ditched cash during the pandemic